Beginner Muay Thai Classes Enrolling In February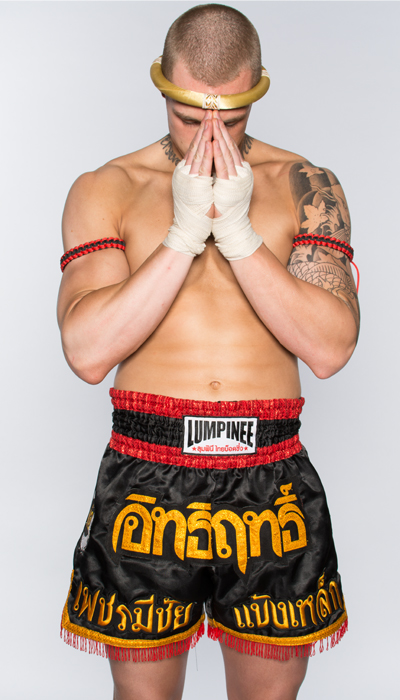 Muay Thai, also known as "The Art of Eight Limbs," utilizes the hands, feet, elbows, and knees as part of an eight-point strategy in sport and competition.
Whether you're looking for a Beginner Muay Thai program to get in shape, learn basic self defense skills, and interact with peers, or you want Real Muay Thai Training to get your skills to a level to step into the ring and compete, Burke's Martial Arts will give you individualized attention to help you reach your goals.
Muay Thai - The Most Hardcore Martial Arts On The Planet!
Burke Martial Arts' dedicated staff of Muay Thai instructors includes Jake Burke. Mr. Burke is president of the Muay Thai Organization. Jake is also a promoter of fights in Providence, Rhode Island. Fights are run every two to three months.
Every year, Jake Burke travels to Thailand to train at various Muay Thai camps to learn real, effective Muay Thai techniques. This type of bona fide training makes Jake the perfect choice to teach Burke's Martial Arts students the best Muay Thai training in the Cranston area.
He is also the founder of the World Muay Thai Organization which promotes and hosts Muay Thai fights in Rhode Island where all of the top Muay Thai gyms in New England and along the east coast compete in.
F.A.Q.
Injuries Are Very Rare At Burke's Martial Arts.
While anything that involves physical activity can lead to injury, Burke's Martial Arts and our vigilant staff place the highest emphasis on the safety of our students.
Along with Muay Thai techniques, we will also teach you stretching techniques that will reduce your risk of injury while training or in the ring. We also encourage each student trains at their own pace, and doesn't push their body to a point of injury.
Will this be really hard on my body? Is Muay Thai violent?
Actually, Muay Thai Boxer's are some of the most humble people, and attempt to avoid fights in almost every situation.
Nak Muay or Muay Thai Boxer's don't start fights. They will do everything to avoid fights. Actually, Professional Thai Boxers in Thailand are some of the most humble people on the planet.
But, if a fight happens they will defend themselves.
Muay Thai is not violent at all.
As far as your body goes... The exercise will be tough at first, but, again, we recommend that you move at your own pace.
START TODAY...AND GET OUR NO-RISK, MONEY-BACK GUARANTEE
Why wait to get into the best shape of your life? You can become an excellent athlete, and learn real Muay Thai Kickboxing NOW!
Learn to defend yourself...and look great!
Fill out the short form on this page to get information sent directly to your inbox.
Benefits of Rhode Island muay thai
Better Your Health & Fitness Level
Increase Your Confidence
Improve Your Stamina & Endurance